Kitchen Remodeling services - Kitchen components
Interior
October 7th, 2022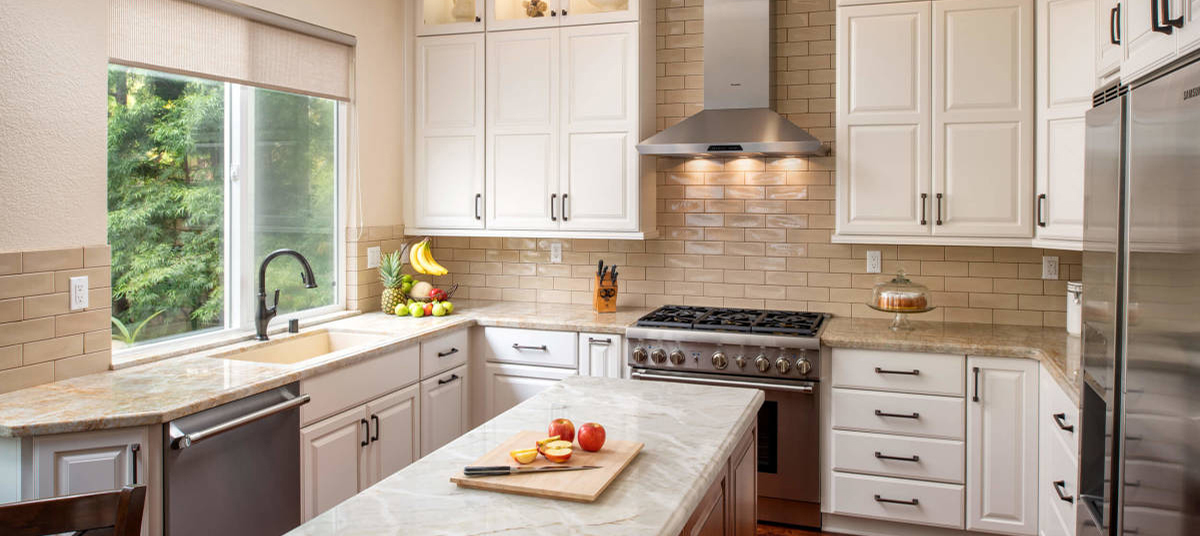 A place for gathering and enjoyment, kitchens are a source of family meals, comfort, and closeness. Modern design improvements have made it possible for kitchens to be both aesthetically pleasing and functionally friendly. By creating a harmony of color, texture, and lighting, the kitchen may serve as the center of your house and a haven for relaxation. Implement unique kitchen remodeling ideas to create a room that is convenient for working in and pleasant to live in. Dynamic Gc Corp specializes in providing remodeling services with a team of professionals and project managers including kitchen remodeling contractors. Dynamic Gc corp provides remodeled kitchens with modern appliances fully according to your desire. That's all you always wanted your kitchen to look like.
We Understand Your Kitchen
We understand that the house kitchen is the main focal point of every home and it needs to be redesigned and remodeled. Dynamic Gc Corp provides kitchen remodeling services and renovates every kitchen with attention, time, and preparations to ensure the final product exceeds your expectations. We will work to remodel kitchen cabinets flooring, appliances, lighting, painting, etc to redesign it by working with you to incorporate current features of your kitchen and recommend trusted sources for any new materials needed. Our expert kitchen designers work with traditional, contemporary, and transitional kitchen designs, combining components from numerous eras and design movements to create a flawless, harmonious room that is both homey and stylish. Every kitchen is different and needs a distinct vision; let us assist you right away. Whether you're building a new kitchen from scratch, remodeling your old kitchen, or renovating your existing kitchen to give it a fresher look, the team here at Dynamic Gc Corp can fulfill your needs, inspire you with creative ideas, and ensure that you are 100% satisfied with the final result.
Kitchen Components
We can assist you with the following premium kitchen components, to name:
Kitchen Cabinets
We work with cabinetry that spans all types, eras, colors, materials, and designs, from Shaker cabinets to contemporary high-gloss cabinets. We can discover the ideal design for you, whether you want soft-close glossy cabinets or traditional country cabinets. We offer a comprehensive range of storage solutions for your culinary needs using stock, custom, and semi-custom cabinetry.
Flooring in the kitchen
Our kitchen specialists at Kitchen Infinity have a variety of surface styles to meet your functional and aesthetic demands, whether you choose granite, marble, Corian, or laminate. With a variety of materials in stock, including natural and engineered stone, we can provide you with kitchen counter surfaces in a variety of designs and degrees of heat, mold, and stain resistance.
Backsplashes
Regardless of whether you choose ceramic tiles, mosaics, subway tiles, or contemporary glass and steel tiles, we can find the ideal backsplash to match your countertop and overall kitchen design. We decide which backsplash is suitable for your cooking routines and aesthetic preferences, from full-height backsplashes to the traditional 4-inch backsplash.
How to Choose The Perfect Backsplash - Great Lakes Granite & Marble
Appliances
While appliances must function, it's also crucial that they blend in smoothly with the design scheme of your kitchen renovation. The greatest refrigerators, ovens, sinks, mixers, and other kitchen equipment that will go well with your selected design and give you many years of dependable service may be simply recommended by our skilled kitchen renovation team.
Kitchen Remodeling Process
A kitchen redesign increases your home's equity in terms of resale value in addition to improving the appearance of your home! A wonderfully renovated kitchen makes a great space for social and personal get-togethers and gives the entire property a lively yet relaxing atmosphere. It can take you a lot of time, money, and effort to redesign your kitchen, but it will all be worthwhile. Additionally, if you are properly informed about the entire restoration process, you may avoid any potential surprises or shocks and be fully ready for them. Additionally, you may search online for local kitchen remodeling contractors and get in touch with them for a free consultation.
This article will explain the various phases and minute details involved in a kitchen remodeling project.
Set Priorities for Your Planning
Before actually beginning the process of redesigning your kitchen, it is important to weigh your needs against your wants. You should decide what belongs in your newly renovated kitchen. You might start by selecting what you absolutely must have in the kitchen before addressing its appearance. The resale value of a house and whether it is worthwhile to invest so much money in it must be taken into account when choosing the elements. Before making any judgments, all of these factors must be taken into account. This will assist you in setting your remodeling project budget.
Make a Layout Plan
It is time to determine the layout of your kitchen once you have agreed on the budget for kitchen remodeling. U-shaped, One Wall, L-shaped, Corridor, and Double L designs are the five traditional kitchen layouts. Choose the plan that best fits your kitchen's layout, and then create a blueprint with general contractors, interior designers, design software, and kitchen design packages.
DIY or Professional Kitchen Remodeling?
One crucial choice remains to be made after you've established your budget and chosen the layout of your kitchen. Who will be doing the cooking work? There are three choices:
Choosing a general contractor is an option. These independent freelancers or businesses are highly skilled in such undertakings and are paid on commission.

You can operate as your contractor and engage subcontractors (a plumber, an electrician, or a carpenter) to work for you if you don't want to hire a contractor or a company.

For those who are sufficiently knowledgeable about these undertakings, doing it yourself (DIY) is a fantastic option. It also aids in substantial financial savings.
Be prepared
There is one last step for you to complete before you start to tear down your kitchen once the full planning process is finished and ready. You must be prepared to live without a kitchen. To create a temporary kitchen, for the time being, clear some space in the house and move your useful kitchen appliances.
Demolish
Depending on the type of kitchen makeover you want, the kitchen may need to be demolished. The load-bearing walls might need to be taken down for a complete renovation. So be prepared for some flying rubble.
Building Out Structurally
Depending on how your kitchen is set up and your preferences, this procedure entails major construction tasks like wall-breaking, the installation of new windows, a new kitchen island, etc. Possible need for expert assistance here. However, skilled DIYers and remodelers can also complete the task.
Equip Rough-In
You can begin the technical rough-in work, which entails the installation of modern plumbing cables, pipes, and HVAC ductwork, once the structural building task is complete. Given the complexity of the task, it is advisable to leave plumbing, electrical, and HVAC work to qualified professionals.
Ceilings and Walls
You should hold off until all mechanical and construction work, including wiring, plumbing, and HVAC inspection, is complete. After that, you may start the process of priming, painting, installing drywall, and insulating your walls and ceiling. Your kitchen will once again look like a kitchen after completing this process, which is also remarkably quick and affordable.
Kitchen Flooring
To save wear and tear, the specialists typically save the installation of kitchen flooring for the conclusion of the procedure. The type of flooring you select for your kitchen renovation will affect your costs. Laminate flooring, ceramic tile, sheet vinyl, solid hardwood, and engineered wood flooring are a few of the alternatives.
Cabinets and Countertops
You can now install the kitchen cabinets and countertops as the makeover of the kitchen is complete. The countertops can be a little challenging to install yourself, but the cabinets are simple. The countertop should ideally be installed by professionals who have the necessary skills. Primarily because the kitchen countertops need to be made, you should accomplish this.
Install the Appliances
Once the kitchen renovation is complete, you can put your appliances back in the room. Hire an electrician and a plumber to assist you in installing the plumbing and lighting fixtures simultaneously. They will also help you cover the ducting and connect the water supply to the tap and the lighting fixtures to the switches.
Examining the finished kitchen
After the kitchen remodeling is finished, you need to give the entire room a thorough inspection. Inspect the entire renovated kitchen if you hired a general contractor to complete the task. If there is anything with which you are ultimately displeased, you should inform the contractor.
Additionally, a renovated kitchen needs to be officially inspected by authorities, who will check your kitchen before approving your permit application. You can request that your contractor set up such an inspection. You will have to make the arrangements yourself for DIY projects. This crucial procedure might enable you to determine whether your financial decisions have been sound.
Conclusion
The kitchen is the most functional part of the home. As a reputable kitchen renovation company, Dynamic Gc Corp has established solid relationships and working relationships with numerous kitchen-related contractors and manufacturers, enabling us to provide you with top-quality products and tradespeople at extremely affordable pricing. Our renovation and remodeling work is done with the devotion, attention, and uniqueness required to ensure the final product exceeds your expectation. We incorporate current features of your kitchen into the redesign by working with you and recommending trusted sources for any new appliances needed. Our team has the knowledge and expertise to get any remodeling project done in the required framework. If you want to work with a creative and reliable team then get in touch with dynamic Gc Corp, working with us will assure high-quality work with no space for error.