Six Steps Of A Construction Project
Exterior
October 21st, 2022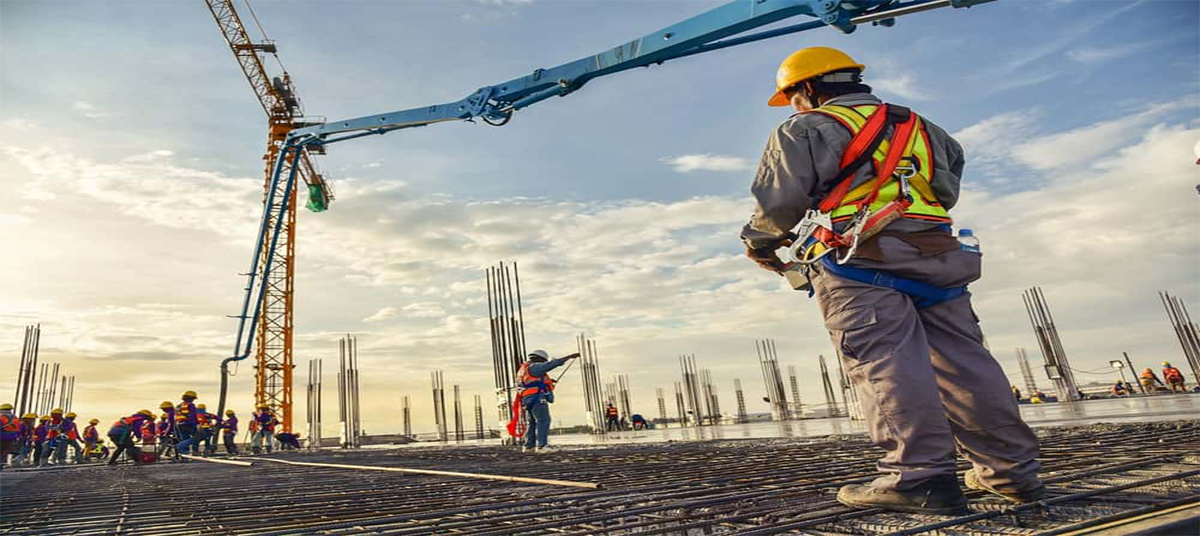 A construction project is the planned process of constructing, renovating or refurbishing a building, structure, or infrastructure. Many people envision large machines on job sites methodically erecting their new building when they consider what goes into a construction project. However, getting to that point requires a significant amount of planning and collaboration. These steps are less visible but equally important.
In this blog, we'll look at the six basic steps that will take your project from an idea to a move-in-ready structure. It is important to note that the order of these steps may vary depending on the project delivery method you select and your project timetable. Additionally, to optimize the schedule, your project team may work on more than one step at the same time.
Step 1: Conception
Step 2: Choose a Team and a Delivery Method
Step 3: Create a design
Step 4: Preconstruction & Procurement
Step 5: Construction
Step 6: Finish
1. Conception
This is one of the most crucial steps in any construction project as it involves formulating a global vision. During the concept stage of your project, you begin to plan how the building will look and what functions it will serve. To get the most out of this phase and lay a solid foundation for the project moving forward, it's critical to start by determining the overall vision of the project.
Master planning is one method for making the most of this step. Master planning services can assist you in organizing your thoughts and needs into a cohesive strategy and considering all of the property's short-term and long-term requirements from the perspective of the many people who will use it. Obtaining expert advice can provide new strategies for maximizing your space and available resources in unexpected ways.
2. Choose a Team and a Delivery Method
Choosing a team to bring your project vision to life is a big step that will have a big impact on the results you get. The most successful projects are led by teams that understand your project objectives and will act as your advocate to see that vision through every step of the way. Depending on the project delivery method you choose, how you build your project team may differ. When would you hire a design-build team for a design-build project? In some cases, this team will include both a construction firm and a design firm collaborating on your project. They'll essentially join forces for your project, combining both firms' expertise into a single point of contact. In other cases, you'll first hire an architect or a construction company. Later on, the missing firm will be chosen and added to the team.
3. Create a design
It involves creating construction documents and visualizing the vision. During the design phase, you will collaborate with the design team to translate the vision of your project into drawings and blueprints. They'll make sure to factor in programming and feasibility, as well as the size and layout of the building. This will then lead to the schematic design, which is a rough sketch of what the building will look like. The sketches will then be used during design development when the team will start to think about the costs of creating that space. The construction documents will be released once that is resolved. They are frequently released in three stages known as the 30-60-90 design process. Each phase of the drawings will include more detail. This allows you to absorb all of the information at each stage and provide your comments and feedback in small steps.
4. Preconstruction & Procurement
Whereas previous steps focus on overall building planning, preconstruction is where the construction team develops a plan for the actual project construction. The goal of this stage is to develop a construction plan that is in line with your goals and vision. It will deal with budgets, timelines, and other factors critical to the project's completion. The team will continue to develop and analyze the project's budget, looking for ways to increase the building's value through value engineering. They may recommend alternative methods or materials, as well as opportunities to increase the overall value of your project while minimizing the impact on your bottom line. To reduce the number of change orders and delays, the preconstruction team should identify potential issues and take corrective or preventive actions.
5. Construction
The construction phase can begin once preconstruction is completed. Starting this stage is often something to celebrate after all of the planning that has gone into it! Often, the project team, owner, and other project stakeholders will gather for a groundbreaking ceremony to mark the beginning of the project. Then the real work begins! The construction team will be on-site to manage subcontractors, ensure proper work is done, keep the site safe, and keep the team on track. While the construction team and their subcontractors bear the majority of the responsibility, all other teammates will be involved. The design team will conduct quality inspections to ensure that the work being done is following their design. Communication between all parties is essential at every stage of the construction process to keep the project on track and ensure work is completed to specification. While communication could have been a major challenge for teams in the past, new technology is making it easier than ever to communicate meaningful information regularly with the people who need it.
6. Finish
Project closeout can begin once the final fixtures are installed and the final coats of paint are applied to the walls. This is when they will hand over the building to the owner, passing on all of the necessary knowledge. During this stage of the project, your construction team will complete the punch list, ensuring that the building is handed over with all finishing touches completed. The project owner will receive all project closeout information, including equipment warranties and manuals, as-builts, and so on. Additionally, before you can fully occupy your new space, your team will need to apply for and receive a certificate of occupancy. A fire, electrical, plumbing, and general building inspection will be performed by a building inspector from your city's zoning or building department. When the project is finished, the partying can begin! You can hold a ribbon-cutting ceremony or a grand opening to announce to the community that your new facility is finished and ready for business. It's also an excellent opportunity to recognize all of the hard work that has gone into the project with the entire project team.
Conclusion
Looking back on the project, this would be an excellent time to provide references and testimonials for your project partners. If you believe they went above and beyond for your project, share that information with them as they seek additional work. If they did a poor job, you should feel free to say so as well. Honest feedback will help them identify their company's weaknesses, and it will also give them the opportunity to make things right with you before parting ways. Dynamics GC Corp provides cost-effective renovation solutions and plans effective construction projects. Provide great and quality services at fair prices and reasonable construction materials as one of the most reliable construction companies. We believe in providing quality services with our creative and professional team of engineers and architects. We will build your dream according to your desire and budget. Proudly, we can work on any type of plan and construction project completing it in the required time frames.