Outdoor Home Renovation: 7 Tips for a Perfect Outdoor Space
Exterior
November 11th, 2022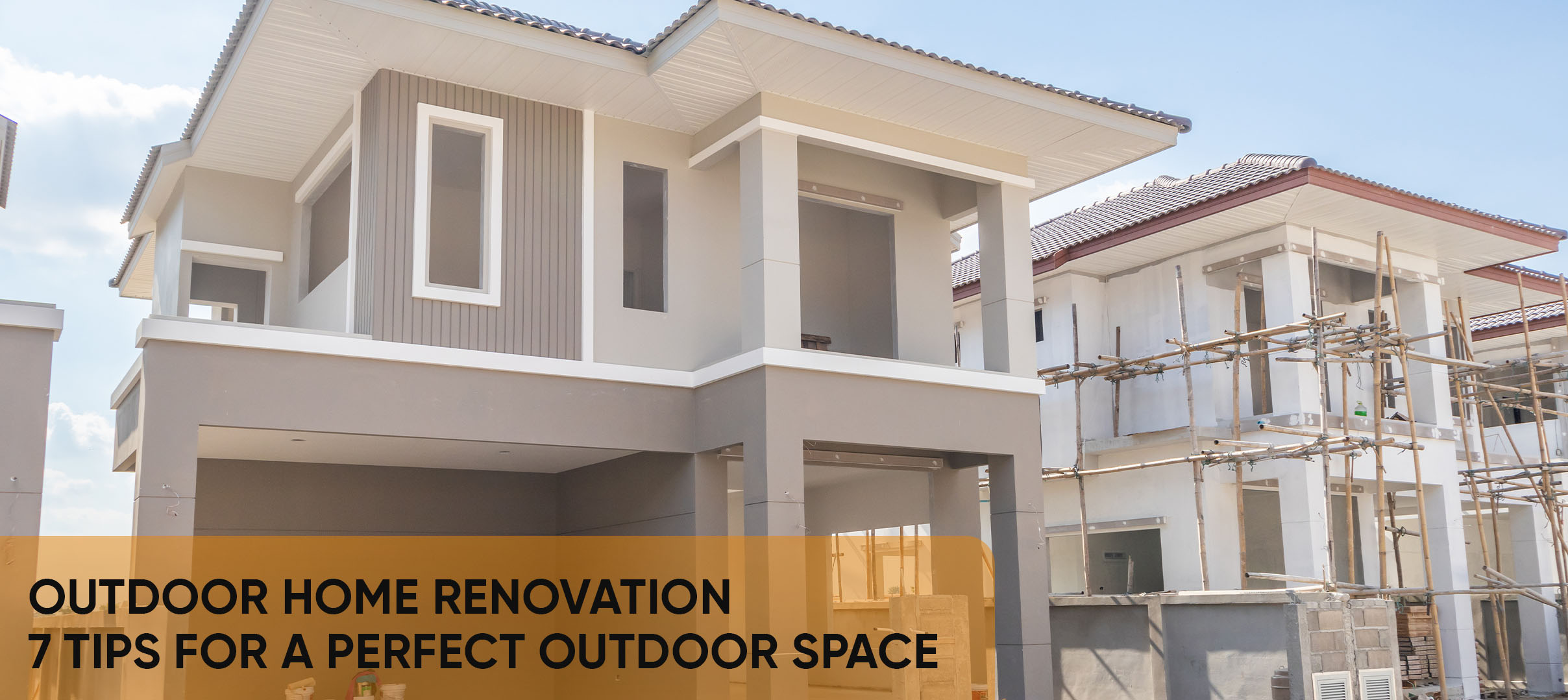 Outdoor house renovations have long been overlooked as a vital home improvement option. Instead, they've concentrated on the inside. However, things have changed, and your outdoor space is now one of the focal points. Even if you believe that improving your living room, kitchen, or bathroom is all that is required to create a lovely home, this is different. What do you think? Your home's external design is just as significant as its inside design. As a result, paying it a little care can drastically transform your property. Surprisingly, even minor adjustments can increase the overall appeal and market value of your property.
There is no need to overcomplicate things. Instead of doing it yourself, you may employ an expert to assist you in planning your external design. However, make certain that the renovation contractor you pick is reliable, qualified, and licensed to perform exterior home modifications.
Here are some outdoor renovation ideas to help you make your outdoor space as appealing as possible.
Modify Your Landscaping
When it comes to the exterior of your home, landscaping is crucial to producing an appealing and inviting appearance. Furthermore, neat and beautiful landscaping can bring vitality and an excellent style to your property, giving a fantastic first impression for your guests. You can add shrubs, plants, a pool pavilion (for a larger backyard), or even a pond (for limited space). These are fantastic elements that can transform your uninteresting backyard into a lovely location where everyone will want to spend time.
Patio and a Porch Addition
Everyone requires a place to unwind, relax, and forget about their troubles at some point in their lives. A patio and porch can connect your outside space to your interior, elevating the perspective of your backyard. You may make your outdoor living space more appealing and comfortable by adding useful amenities such as furniture, color, lighting, a rug, and aroma. Engage a competent exterior renovation contractor to build the patio of your dreams.
Roof Replacement
If your roof has been damaged or is more than 20 years old, it's probably time to replace it. Older roofs are more vulnerable to hail, storms, and wind damage, so replacing them improves durability and strengthens your structure. Remember that your roof protects your interior space from the elements and helps to maintain your house in good shape all year. Whether you choose architectural roof shingles, tile roofs, or metal roofs, Dynamic Gc Corp will execute an excellent job.
Add Texture
The texture is one of the best home exterior ideas for adding dimension to your home's outside. It adds a distinct appeal, both tactile and visual, to your outdoor environment, making it more appealing. You can adorn a part of your home with cedar shingles, an accent wall, or a stone/brick veneer skirt. Corrugated metal panels, stucco, or architectural wall panels can add texture and design to the exterior of your home, giving it a more modern appearance.
Enlarge Windows
The number and size of front windows can have an impact on the outside style of your home. If your windows are too small, they might throw off the design and keep the inside space dark. You can remedy the issue by increasing the windows, changing the design and size, or installing a picture window to add dimension to the exterior of your property.
Improve Your Garage
Your garage, if you're like most homeowners, is definitely too plain and boring. Remember that your garage is a part of the exterior and has an impact on it. Your garage may be messy and cramped because it is usually used for storage. Upgrade the flooring, paint the walls, and even replace the doors and windows to bring them back to life. You can also try some do-it-yourself tweaks to make your garage more functional and appealing.
Improve Your Exterior Lighting
Installing high-quality outdoor lighting can benefit your property in a variety of ways. It can improve security and safety, allowing you to be outside at any time of day or night. It can also boost the value of your home and help you attract high-paying clients when it comes time to sell. Add accent lights, sconces, and over-the-door lights to illuminate and make the exterior visible even at night.
Begin Your Project Right Now!
Are you seeking for professionals to help you get started on your project? Dynamic Gc Corp has you covered. Our team is dedicated to providing you with services that exceed your expectations. We can assist you in creating a useful and appealing outdoor environment. Contact us immediately to set up a no-obligation consultation and quote.